email: enquiries@hadriancoins.com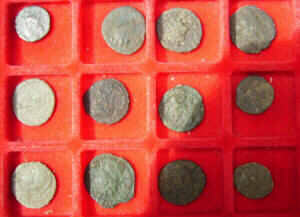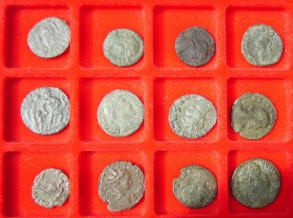 Unidentified bronze coins are offered from £3 each (left photo) to £5 each (right photo).
The photos give an impression of the range and quality in each price bracket.
For a measure of relative size, the coin 'boxes' measure 14 mm square.
If you wish to purchase sample coins of one of these price brackets
(our choice of individual coin), please email to say how many and at what price.
See our Starter Packs page for our current offers of sets of 5 coins at reduced prices.
Our showcase in Bookcase in central Carlisle has about 70 coins for sale, at prices from £3,
many from the reigns of Constantine the Great and his sons.
You will also find inexpensive coins in the 'Hoards' section of this website,
especially those from the Beachy Head, Grassmoor and Nether Compton Hoards.
If you wish to buy any of the coins listed below, please email to check it is still available
email: enquiries@hadriancoins.com
---------------------------------------------------------------------
Identified Bronze Coins of the Third Century - under £20
---------------------------------------------------------------------
Gallienus, 253 to 268 AD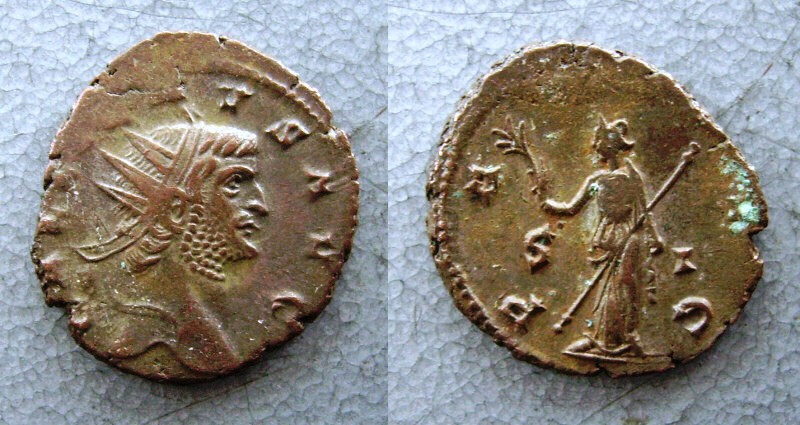 RC 3278 - Gallienus (253-268 AD) - antoninianus of c19mm
obverse - IMP GALLIENVS AVG
reverse - PAX AVG - Pax (Peace) with staff and olive branch.
(from an old collection)
£12
---------------------------------------------------------------------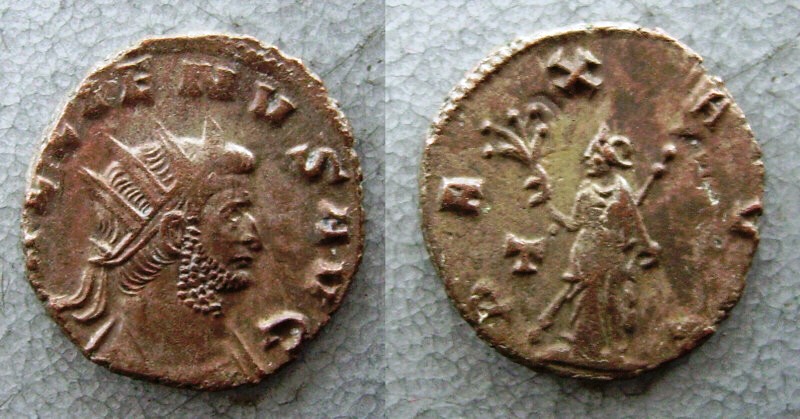 RC 3279 - Gallienus (253-268 AD) - antoninianus of c19mm
obverse - IMP GALLIENVS AVG
reverse - PAX AVG - Pax (Peace) with staff and olive branch.
(from an old collection)
£12
---------------------------------------------------------------------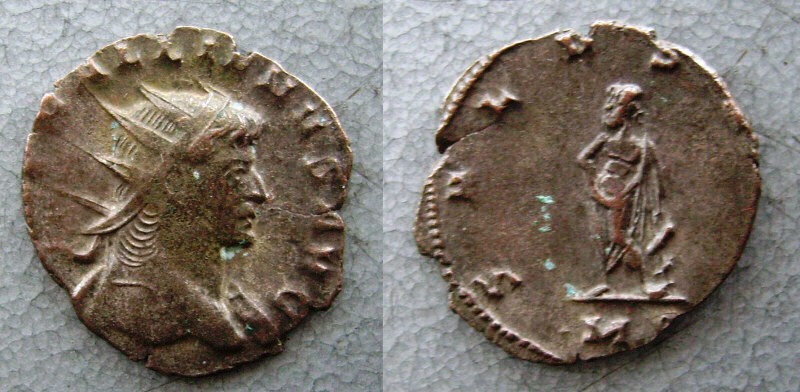 RC 3280 - Gallienus (253-268 AD) - antoninianus of c19mm
obverse - IMP GALLIENVS AVG
reverse - SALVS AVG - Salus (safety) holding a snake.
(from an old collection)
£12
---------------------------------------------------------------------
Claudius II, Gothicus, Emperor in the East, 268 to 270 AD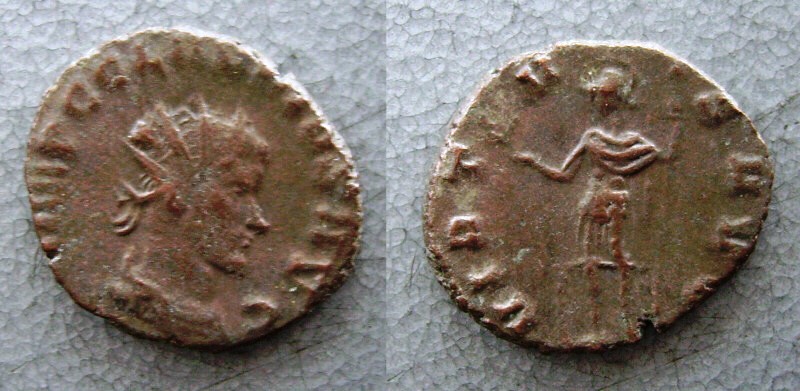 RC 3275 - Claudius II Gothicus (268-270 AD) - bronze or billon antoninionus of c19mm
obverse - IMP C CLAVDIVS AVG
reverse - VIRTVS AVG - Virtus (strength) or Mars standing with olive branch and spear.
£12
---------------------------------------------------------------------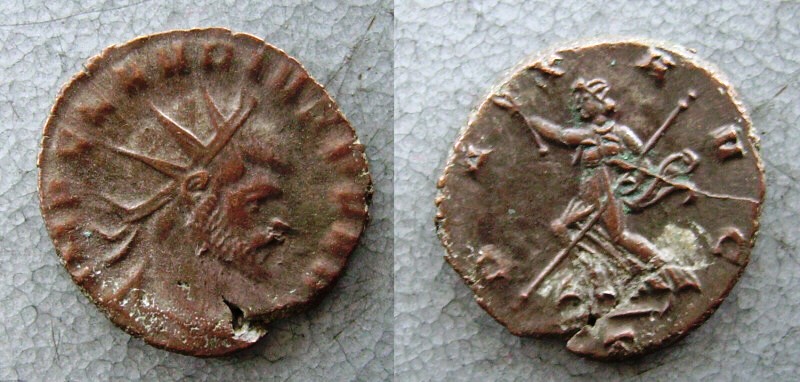 RC 3276 - Claudius II Gothicus (268-270 AD) - bronze or billon antoninionus of c19mm
obverse - IMP CLAVDIVS AVG
reverse - PAX AVG - Pax (peace) advancing with olive branch and staff.
£12
---------------------------------------------------------------------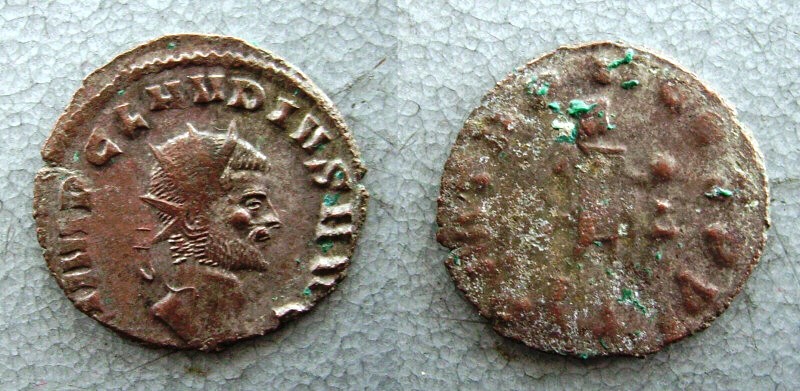 RC 3277 - Claudius II Gothicus (268-270 AD) - bronze or billon antoninionus of c19mm
obverse - IMP CLAVDIVS AVG
reverse - [PROVIDENTIA] AVG - Emperor standing holding globe.
£12
---------------------------------------------------------------------
Victorinus (Emperor in the West, 268-270 AD)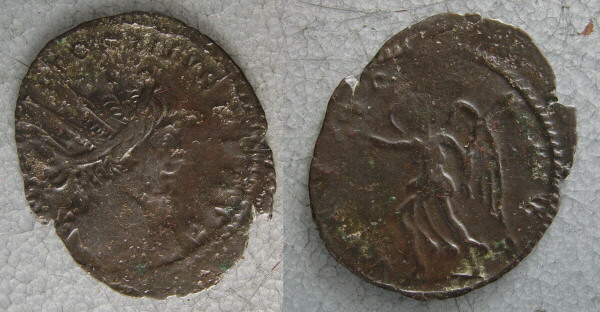 RC 1630 - Victorinus (268-270 AD) - antoninianus of 21 mm
obverse - IMP C VICTORINVS PF AVG
reverse - VICTORIA AVG - Winged Victory proffering olive wreath crown.
(from an old collection)
£15
---------------------------------------------------------------------
Probus, 276 to 282 AD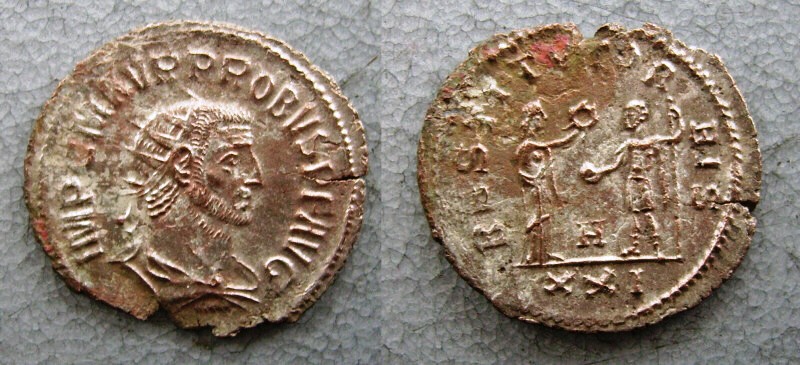 RC 3259 - Probus (276-282) - silvered antoninianus with some silvering remaining (22 mm)
obverse - IMP CM AVR PROBVS PF AVG
reverse - RESTITVT ORBIS - Female presenting a wreath to Probus who holds a globe.
XXI in exergue, H in field
(from an old unrecorded hoard)
£14
---------------------------------------------------------------------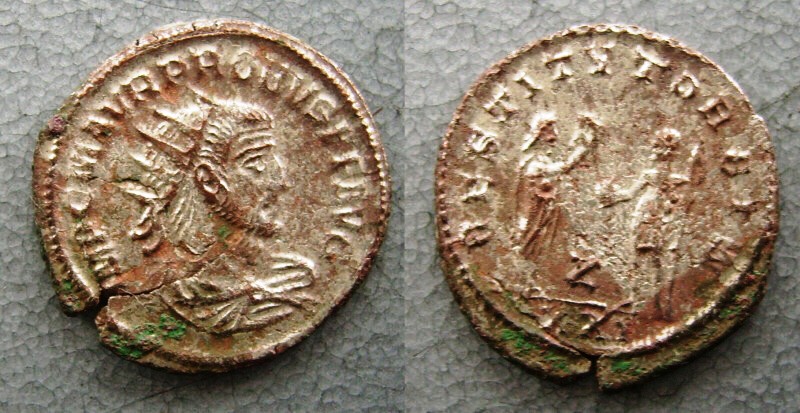 RC 3260 - Probus (276-282) - silvered antoninianus with some silvering remaining (22 mm)
obverse - IMP CM AVR PROBVS PF AVG
reverse - RESTITVT ORBIS - Female presenting a wreath to Probus who holds a globe.
XXI in exergue, Z in field
(from an old unrecorded hoard)
£14
---------------------------------------------------------------------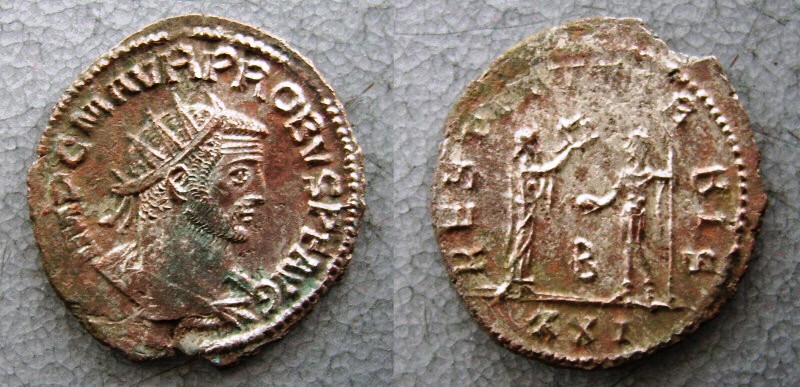 RC 3263 - Probus (276-282) - silvered antoninianus with some silvering remaining (22 mm)
obverse - IMP CM AVR PROBVS PF AVG
reverse - RESTITVT ORBIS - Female presenting a wreath to Probus who holds a globe.
XXI in exergue, B in field
(from an old unrecorded hoard)
£14
---------------------------------------------------------------------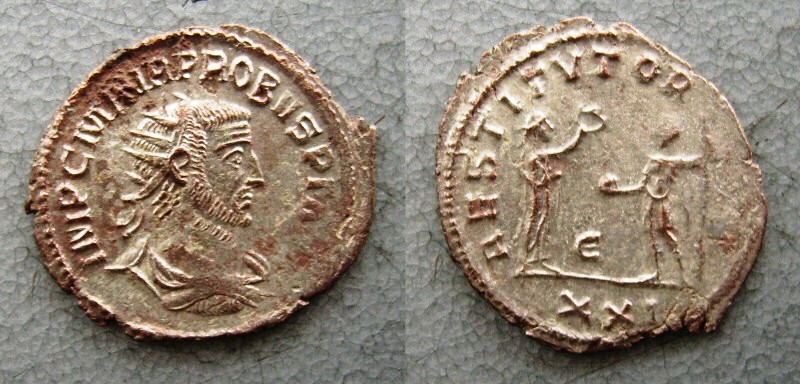 RC 3261 - Probus (276-282) - silvered antoninianus with much silvering remaining (22 mm)
obverse - IMP CM AVR PROBVS PF AVG
reverse - RESTITVT ORBIS - Female presenting a wreath to Probus who holds a globe.
XXI in exergue, E in field
(from an old unrecorded hoard)
£16
---------------------------------------------------------------------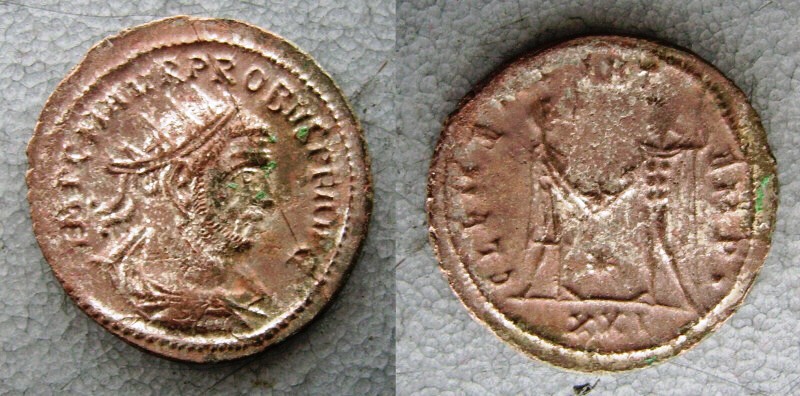 RC 3266 - Probus (276-282) - silvered antoninianus with much silvering remaining (22 mm)
obverse - IMP CM AVR PROBVS PF AVG
reverse - CLEMENTIA TEMP - Clemency presenting a globe to Probus.
XXI in exergue, * in field
(from an old unrecorded hoard)
£16
---------------------------------------------------------------------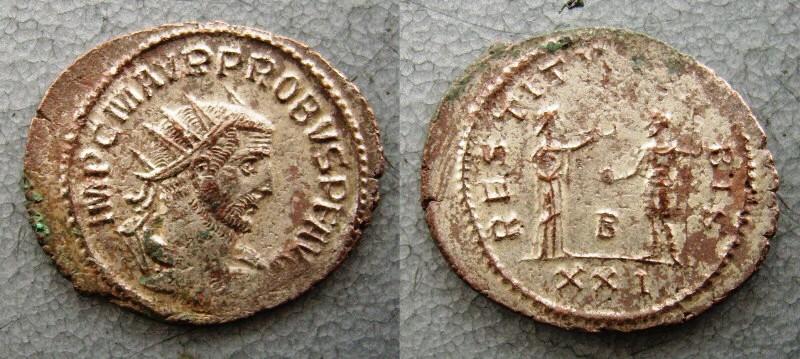 RC 3262- Probus (276-282) - silvered antoninianus with much silvering remaining (22 mm)
obverse - IMP CM AVR PROBVS PF AVG
reverse - RESTITVT ORBIS - Female presenting a wreath to Probus who holds a globe.
XXI in exergue, B in field
(from an old unrecorded hoard)
£18
---------------------------------------------------------------------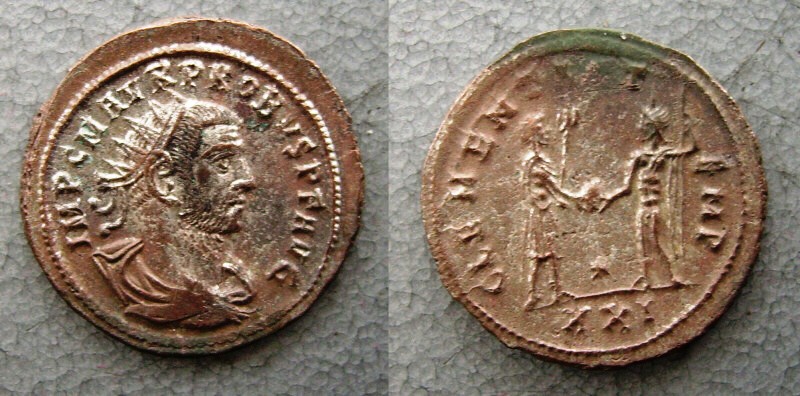 RC 3265 - Probus (276-282) - silvered antoninianus with some silvering remaining (22 mm)
obverse - IMP CM AVR PROBVS PF AVG
reverse - CLEMENTIA TEMP - Clemency presenting a globe to Probus.
XXI in exergue, * in field
(from an old unrecorded hoard)
£18
---------------------------------------------------------------------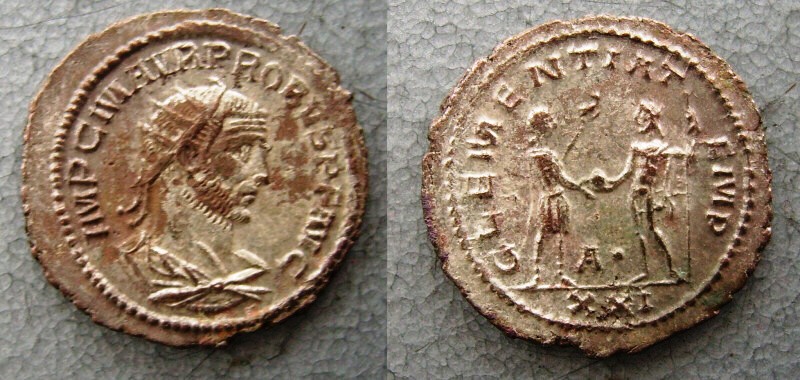 RC 3264 - Probus (276-282) - silvered antoninianus with much silvering remaining (22 mm)
obverse - IMP CM AVR PROBVS PF AVG
reverse - CLEMENTIA TEMP - Clemency presenting a globe to Probus.
XXI in exergue, A in field
(from an old unrecorded hoard)
£19
----------------------------------------------------------------------
email: enquiries@hadriancoins.com